Rihanna's Unapologetic Matrimony with Marijuana
"You been rollin' around, shit I'm rollin' up. Light and roll it up."
The unabashed aesthetics of Rihanna lifting a blunt to her face motivated the girls to come out of the closet with joints resting between RiRi Woo painted lips. We witnessed stiletto nails – honed enough to break flesh – flick dainty lighters upon branded papers. We scrolled past provocative photos of the baddest bitches taking the biggest bong rips.
Women were lit in such ways before Rihanna's significance. However, the clout she accumulated magnified her prerogative to smoke weed whenever she felt like it despite social stigmas. This served as an altar call to Black women and women of color whose inhale was hushed by fear of judgment, legal action, and healthcare professionals.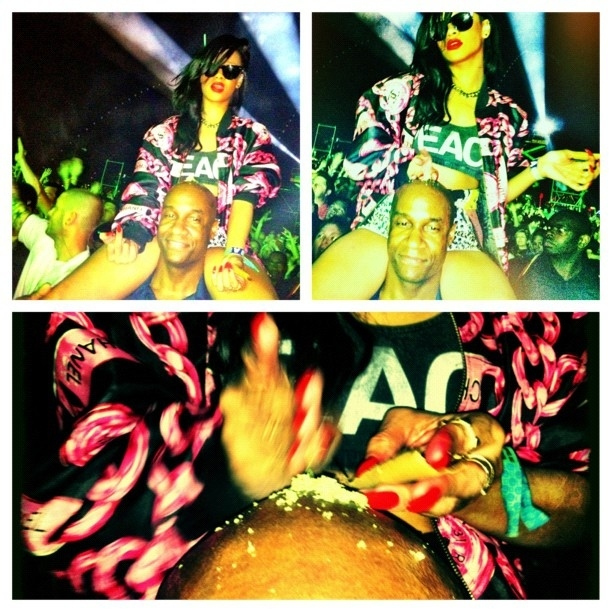 In 2012 at Coachella, we became aware of Rihanna's Zero-Fucks policy on public opinion of her consumption. She sat on the shoulders of her bodyguard in the center of Coachella then proceeded to break down and roll a blunt on his bald head. After receiving a bit of backlash, she reposted the candid images to Instagram. Inspirational.
Blowing clouds of smoke and pearling blunts became a trademark of her entire brand. Take a look at her work and you'd find a recurring cannabis theme from album cover art to appearances in magazines such as The Fader. At this point, we're familiar with the idea of a brown-skinned girl smoking. Representation works, regardless of context.
Her ability to merge industries with savagery and grace made accepting her brand easy. While she reportedly rented out the entire floor of a hotel, she also started the Clara Lionel Foundation (CLF). All proceeds from her annual Diamond Ball are donated to CLF to help provide quality healthcare and education to children in developing countries.
She may smoke a blunt to swim, promote music, or get ready to party with Dior, but she's also one of the first Black celebrities to place women of all shapes, sizes, backgrounds at the forefront of her lingerie (Savage x Fenty) and makeup (Fenty Beauty) lines.
Rihanna dares the public to police her as she challenges stigmas and stereotypes associated with women of color, especially Black women.
If you consume cannabis for whatever reason, you should be free to do so unapologetically. Grab a dose of No-Fucks-Given in the photos below featuring Rihanna and our green friend ganja.